Do you know the difference between a macaron and macaroon? I'm not sure if this is common knowledge but I hate to admit that I really had no idea what the difference was between the two until I tried making a raw version of the fluffy coconut cookie also known as a macaroon. For those of you who do, please disregard that last sentence – you never read it :).  For those of you who are in my boat very simply put, macrons are cookie sandwiches created with an almond flour base and macaroons are cookies that are coconut-based.
Normally, macaronis are the colorful, dainty cookie sandwiches with a decadent filling.  They're usually displayed on an elegant dessert table at a special event.  Since I had shredded coconut on hand I decided to give the macaroon a make over, besides making a raw version I wanted to add some personality to this sometimes overshadowed cookie.  Adding color to a cookie that is typically white makes whipping up this recipe so much fun!
The best part about this recipe in my opinion is the versatility of a macaroon.  Since it has such a light colored base, the cookie is a perfect canvas for a colorful imagination.  Adding in colorful powders and fruit purees lends a playful element to creating this treat.  The possibilities are endless.  I can't wait to keep trying different combinations because if you weren't already aware, I LOVE color!  Since receiving super food powders from Organic Burst, I've been playing around with adding them to my recipes hence, acai berry macaroons!
Not only can you easily change the color of this cookie, you can also add in spices, herbs and extracts to develop tasty flavors! Get creative around the holidays without having to over-think since the base is always the same you can easily control the flavor of this macaroon.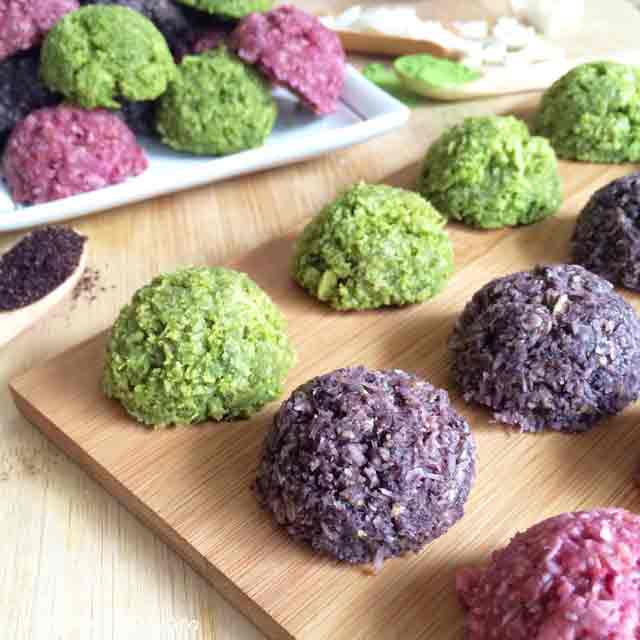 Try out this recipe and let me know what flavors are your favorite! If you come up with something new, I'd love to hear it. Pumpkin puree would be a great Fall flavor to incorporate with this treat.  I hope you enjoy my raw version of this fluffy and chewy cookie!
MATCHA, RASPBERRY & ACAI MACAROONS
PREP TIME
COOK TIME
8 hours
TOTAL TIME
8 hours 20 mins
INGREDIENTS
INSTRUCTIONS
Prepare date paste or use another liquid sweetener such as maple syrup, coconut nectar, etc. Blend all ingredients for date paste in a high speed blender or food processor. Store paste in an air-tight container in the refrigerator.
Blend oats in a high-speed blender or food processor.
Add shredded coconut, date paste, coconut oil and vanilla and blend.
Scoop out half of the mixture into a bowl.
Choose a flavor add-in to add to the remaining mixture in your blender (i.e. add ¼ tbsp matcha powder to make matcha macaroons).
Using a tablespoon scoop out dough onto dehydrator tray.
Place remaining mixture from bowl back in your blender and choose another flavor add-in (i.e. add ⅓ raspberry purée for raspberry macaroons).
Using a tablespoon scoop out dough onto dehydrator tray.
Dehydrate at 115 F for about 8 hours.
NOTES
For macarons using flavor add-in powders, dehydrate at 115 F for 6-8 hours.
For macarons using flavor add-in purées, dehydrate at 115 F for 8-10 hours.
If you do not have a dehydrator, bake on low heat in the oven until outside is dry and the center is still soft.